Thursdays  * June 17 – September 9
 *
10 am to 3 pm
Location – Impact Church East Parking Lot

The Lowell Area Farmers' Market is seeking vendors for our annual farm market season. As the season approaches, we know things will change, but for now,  we will be practicing social distancing, and taking the precautions as we look forward to opening.
We are seeking vendors that can supply essential items:  Veggies, fruits, honey, maple syrup, cheese, breads, eggs, meats, pet foods, hygiene products, plants, and crafts.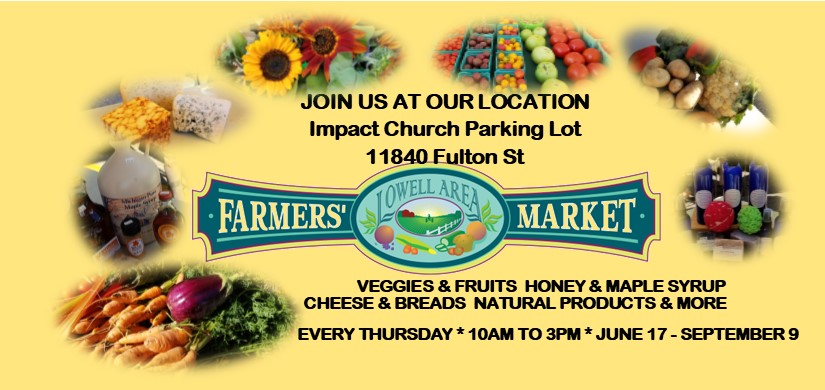 (across from Meijer)
The Lowell Farmers' Market will return to the Impact Church parking lot (across from Meijer).  Our location will have easy access as well as more vendor space.   Open every Thursday from June 17 through September 9.
Market Master, Cinnamin Piggott, is ready to start scheduling spaces for 2021. There will be room for 30 vendor booths each and every Thursday.   We are seeking farmers, retailers and non-profits.  Available spaces are either seasonal (save $65) commitment or weekly.
Free Parking/Handicap Parking
Market Master:  Cinnamin Piggott
(616) 916-9193
About Us
The Chamber is made up of more than 300 businesses, clubs and organizations and we provide a wide range of services and events for our members and residential community.